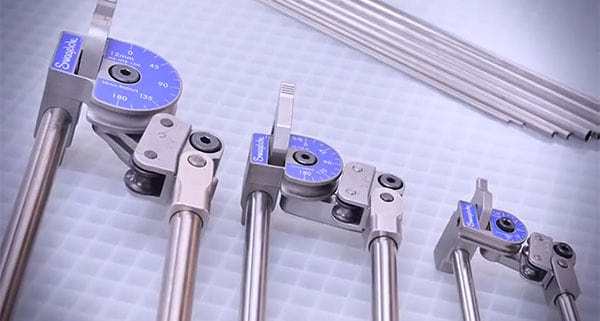 Hand Tube Bending Essentials Training (SLT-BEND-00)
More connections mean more potential for leaks. Swagelok Tube Bending Essentials course offers foundational knowledge needed to introduce bent tubing to your system to eliminate joints and leak points found in traditional welded pipe systems.
Tubing cutting and deburring
Understanding marking used in tube bending
Bending tubing with the correct bend angle made in the correct location
Identifying five potential bend defects
Working safely and improved levels of installation performance and reliability
Practical assembly of a box comprising of all techniques learnt on course, i.e. assembling tube runs between fixed points in a confined space.
Although the above course does not require any pre-requisites, it is more advantageous if the learner has completed the Swagelok Tube Fitting Installation Course, which covers:
Correct tube selection and handling (based on the application)
Good tube handling practices
Correct and safe installation of tube fittings
Installation and re-tightening procedures (including pre-swaging, gaugeability)

Tube system installation (including correct support, placement and monitoring procedures)

The difference between pipe and tube
When PTFE tape should, and should not, be used
Tube fitting mechanics (including safety directives on intermix and interchange)
Tube fitting and incorrect practice identification
Thread type discussion and threaded fitting installation practices
Correct tube bending practices (including 3 practical exercises)

Safety considerations
Find out more or to book the next available course - Click Here