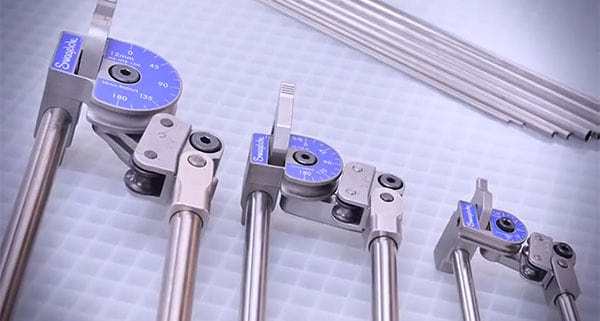 Tube Bending Essentials Training
Course Aims
The aim of this course is to provide participants with the most proficient knowledge to enable them to be experts within their field of tube bending practice.
Pre-Requisite
No pre-requisite experience or training is necessary.
Course Overview
More connections create further risk of potential leaks. Our Tube Bending course provides essential foundation skills required to introduce bent tubing to your framework and eliminate potential leak connections located in common welded pipe systems.
Learning how to bend tubing accurately is vital. Proper tube preparation is critical in tube fitting assemblies, of which the biggest challenge is ensuring the bend is made in a precise position and direction. Therefore, before learning how to install a tube fitting, it is essential to understand how to prepare the tube being used in an assembly as every bend is an all or nothing opportunity.
Course Content
There are numerous techniques to tube bending, which can be seen demonstrated in this module, using a variety of tools. You will have the opportunity to practice the theory behind measure-bend methods and carry out several activities, including tube bending at 45, 90 and 180 degrees amongst the following listed content:
Tube cutting and deburring
Understanding and identifying tube marking methods to instruct tube bend
Bending tubing with the correct bend angle made in the correct location
Identifying five potential bend defects
Working safely and improving levels of installation performance and reliability
Practical assembly of a box comprising of all techniques learnt on the course, i.e. assembling tube runs between fixed points in a confined space
While the contents of the above Tube Bending Essentials course does not require any experience, it is highly beneficial to have completed the Swagelok Tube Fitting Installation Course to gain the very best out of this program.
The Installation course covers material on correct tube selection, good handling practices and installation methods, including the following:
Tube fitting and incorrect practice identification
Tube fitting mechanics (including safety directives on intermix and interchange)
Installation and re-tightening procedures (including pre-swaging, gaugeability)
Tube system installation (including correct support, placement, and monitoring procedures)
Thread type discussion and threaded fitting installation practices
Correct tube bending practices (using the pre-measure method)
The difference between pipe and tube
When PTFE tape should, and should not be used
Safety considerations
To book the next available Installation course Click Here
Qualification
Swagelok Certification of completion, plus wallet card – valid for 3 years
Duration
1 day
Contact
For further information about this course or to speak with a member of our Training team email trainingservices@london.swagelok.com or call +44 (0)1923 272 000
Course Dates
Find out more or to book the next available course Click Here