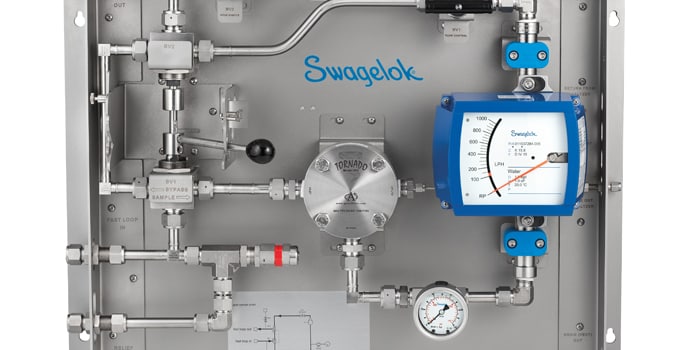 Fast Loop Module (FLM)
Fast loop modules (FLM) are designed to handle high flows and long transport lines from tap to analyzer to reduce time delays for online analyzer systems. The FLM easily isolates the sample system while introducing a purge gas for system cleaning, and extracts a sample through a filter while using the high flow rate to keep the filter element clean. The FLM minimizes pressure drop for fastest response time.
To purchase this product, contact your local
sales and service center.
Safe Product Selection: The complete catalog contents must be reviewed to ensure that the system designer and user make a safe product selection. When selecting products, the total system design must be considered to ensure safe, trouble-free performance. Function, material compatibility, adequate ratings, proper installation, operation, and maintenance are the responsibilities of the system designer and user.

Caution: Do not mix/interchange Swagelok two ferrule tube fitting end connection components (or other products not governed by industrial design standards) with those of other manufacturers.